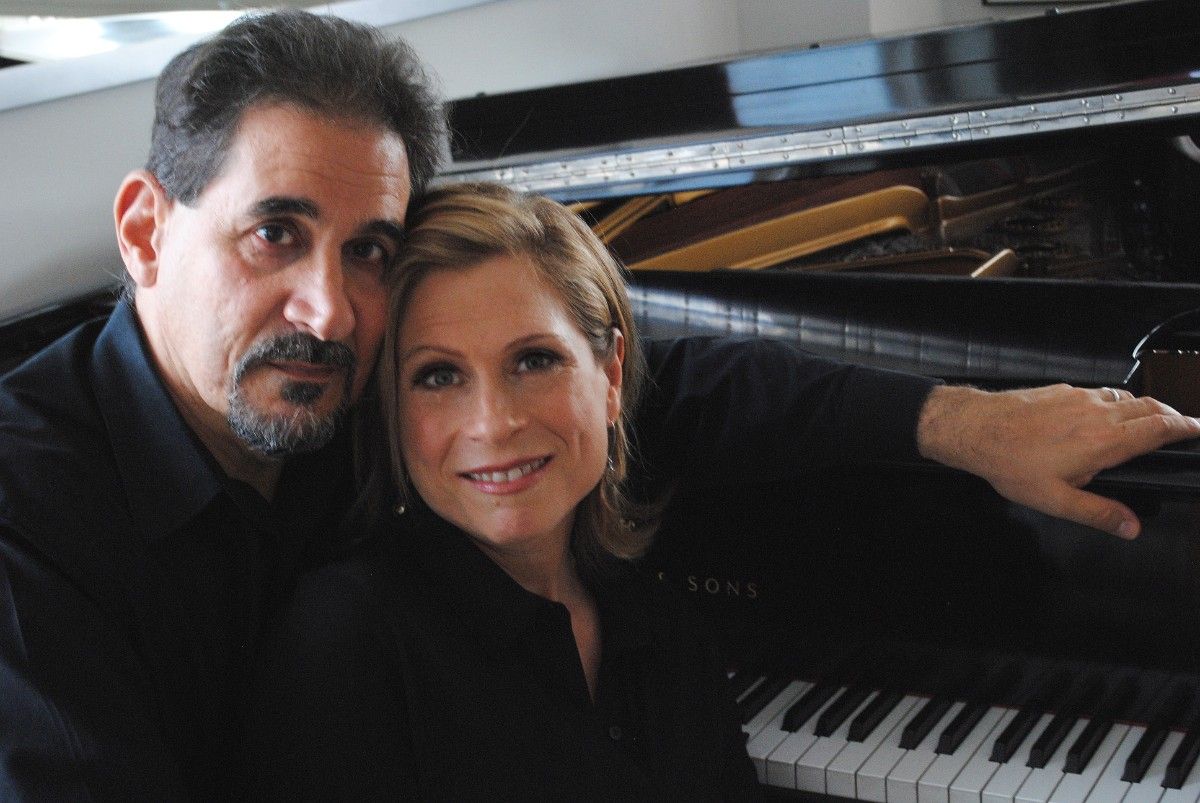 John Musto and Amy Burton Make a Life Together in Music
Fools, marital discord, and drinking wine are all featured in the short comedic opera, Bastianello, set in 18th-century Italy. The groom quarrels with his new wife and in-laws on their wedding night and he sets out on a quest to find six even-more foolish people. That story, however, is very much the opposite of the opera's composer, John Musto — he has been happily married to soprano Amy Burton for 34 years. They will both be performing in the opera on July 16, as part of the 14th-annual Festival Napa Valley, which runs from July 12–21, and includes more than 60 concerts and events at a variety of venues.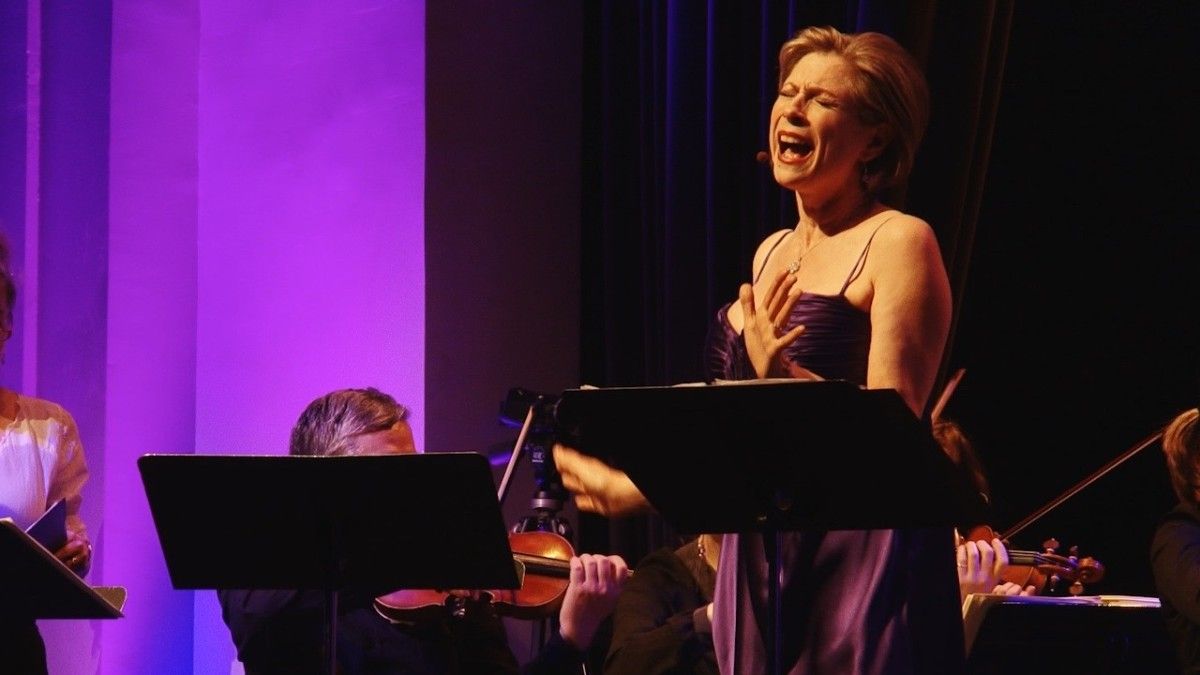 Barry Jagoda - August 10, 2018
Introduced to festival audiences, on this evening of wonderful nostalgia, was a New York-based amazing soprano, Amy Burton, whose renditions accompanied by veteran pianists John Musto and Michael Boriskin, were compelling, entertaining and at the highest level of cabaret performance.
Burton stole the show and gave delight after delight in her presentations of Bernstein at work and play.
Patrick Rucker - May 21, 2018
Burton, who could make you weep singing the federal budget, Boriskin and Musto, himself an outstanding pianist-composer and Burton's husband, each contributed to the engaging, relaxed atmosphere of this moving afternoon.
Stephen Eddins - 2011
Soprano Amy Burton, ably accompanied by Trio Solisti, sings them with lovely tone and a disarming naturalness.
October 31, 2010
Burton is an accomplished singer with a beautiful lyric soprano voice. But more important than her vocal gifts is her sure musicianship, mastery of technique and natural acting ability. Anthony Tomassini, the critic for the New York Times, has called her voice "luminous" and "lustrous" and, while he is spot on, these words fail to also convey the bright silvery quality that sets her apart. It is no wonder that she is in demand...
October 31, 2010
Musto was at the piano for a group of his songs, with his wife, soprano Amy Burton, as the vocal soloist. [She] is a sensitive interpreter. It helps that she has a lovely voice to go with a gift for setting a mood.
For New York City Opera's American Voices
Silvery-voiced soprano Amy Burton also sang "Les feux d'artifice t'appellent", the final aria from Prima Donna, [Rufus] Wainwright's first opera...
Anthony Tommassini - November 6, 2009
Mr. Wainwright was also represented by the lustrous soprano Amy Burton's intimate performance of a pensive aria in French from his new opera 'Prima Donna.
For John Musto Songs (Bridge Records)
Both [Patrick] Mason and [Amy] Burton (the latter is Musto's muse and life partner) project these songs ideally, with stunningly clear diction and intonation.
Phil Muse - January 22, 2010
Patrick Mason's deep baritone...is complimented perfectly by Amy Burton's attractive and versatile soprano voice, which possesses the flexibility to encompass everything from Mozart heroines to Broadway to music written for the French diva Yvonne Printemps.
With Trio SolistiInPaul Moravec's Vita Brevis
Soprano Amy Burton joined the trio for the local premiere of composer Paul Moravec's arrangement of his song set, 'Vita Brevis' – five short poems encapsulating the life story from birth to death. Burton sang with beautiful tone, sensitively shading dynamic nuances. The trio's accompaniment carefully balanced with and buoyed Burton's most luxuriant lines.
In John Corigliano's Mister Tambourine Man: Seven Poems of Bob Dylan
Amy Burton, a New York-based soprano, joined the orchestra for a searing performance of depth and substance. Her clean voice, slightly amplified, and substantial range of emotions and nuance, covered much territory from the sweet simplicity of "Clothes Line" to the raw, unvarnished anger of "Masters of War." The final movement, "Forever Young," mostly for voice alone with minimal orchestra accompaniment, was exquisitely done.
At Barcelona's Gran Teatro del Liceu's Foyer
Burton's prime virtue was her excellent diction, indispensable for texts brimming with risqué implications to have their effect. With a direct style, a voice technically impeccable, and with the emphatic support of her husband, John Musto, at the piano, the American singer offered, among other works: selections from shows of Hahn .and Messager -- a charming repertory that even today signifies France itself. Transatlantic gems were not lacking, like "Goodbye, Little Dream, Goodbye" of Cole Porter, but it was in the final piece, the irresistible "Les Chemins d'amour" of Poulenc, that, thanks to Amy Burton, the freshness of spring at last made its way into the Liceu.
As Angelica in New York City Opera's Orlando
…an enchantingly modern production by Chas Rader-Shieber starring the charismatic countertenor Bejun Mehta and the luminous soprano Amy Burton.
Concert for Peace, Re-opening of the Cathedral of St. John the Divine
Bernstein, who would have turned 90 last year, was remembered with four vocal selections from "West Side Story," including a beautifully nuanced reading of "Somewhere" by the soprano Amy Burton and a moving performance of "Tonight" by Ms. Burton and the tenor Vale Rideout.
As Jenny in Opera Boston's Mahagonny
As Jenny Smith, the sexy, flirtatious, whore with less a heart of gold than a purse waiting to be filled with it…soprano Amy Burton was simply magnificent in the role, uninhibited and endowed with a voice that soared easily at the top, was rounded and rich, and capable of showing swings in emotion that gave depth to her character – and she has a nice body, too. Ms. Burton used the opportunity to combine her lovely voice with a libretto that gave her ample opportunity to get into the role and act with abandon – and she did both wonderfully.
As the Governess in Turn of the Screw
Amy Burton depicts the Governess as a compassionate, vulnerable woman who will devote herself to her charges no matter what. At every moment, Burton is elegant and involved, her bright soprano an intense messenger of caring or distress. It is a mesmerizing performance.
Cleveland Scene
With the evening's most persuasive acting, Amy Burton renders the governess as an insecure but fiercely compassionate soul, sacrificially dedicated to her charges.
Opera News
The cast was led by Amy Burton, an enthralling Governess. The soprano sang and acted with equal skill, her progression from innocent young woman to near madness brilliantly etched. The lovely euphoria of the garden scene led inexorably to the excruciating "Malo" of the final scene.
Reviews of Souvenir de Printemps (Harbinger 2005)
Un disque beau, un disque rare. Amy Burton, américaine cantratrice… a osé cet hommage a Yvonne Printemps et a enregistré la majorité de ses succes. Le résultat est magnifique, pour ne pas dire enthousiasmant. Comme il y a d'esprit là-dedans - de cet esprit français tout dédié à la chose sans jamais prononcer le mot! Délicieuse curiosité..
A beautiful recording, a rare recording. Amy Burton, an American singer… has dared this homage to Yvonne Printemps and has recorded the majority of her great successes. The result is magnificent, not to say enthusiastic. How much spirit is in there – that French spirit completely devoted to one thing without ever saying it directly! A delicious curiosity
Opera News
Soprano Amy Burton shines as Yvonne Printemps although Printemps' voice was never as robust as Burton's. Whipping up a chanteuse who was part wild-child Manon and part elegant Figaro Countess, Amy Burton was in astounding vocal form as the always grand Printemps. Burton as Printemps makes an excellent conversation piece.
Amy Burton's Yvonne Printemps: a diva recalled
…when all was said and sung, the songs…carried the evening. It was a pleasure to hear Amy Burton delight in Maurice Yvain's joyous 'Non, non, jamais les hommes!' from the 1922 operetta Ta Bouche…The evening's two truly show-stopping numbers were… the familiar 'Plaisir d'amour' and the rarer 'Chemins de l'amour', a Poulenc song originally used in an Anouilh play, were given beautiful, longing renditions… All in all, a lovely tray of hors-d'oeuvres that whetted my appetite for a complete operetta meal.
As Elle in La Voix Humaine Glimmerglass Opera
Denise Duval, who was the composer's close friend, has long been regarded as the unsurpassable Elle, the opera's only audible voice. But at Glimmerglass, Amy Burton – supported by the sensitive conducting of Stewart Robertson – seemed to me just about ideal in this extraordinarily taxing role, arresting in her desperate solitude, like a cat miserably in heat, and expressive in her easy handling of the torrential French text. Ms. Burton's Elle was the most compelling performance I've seen by this City Opera stalwart, whom I have previously admired more for intelligence than allure. Here, she has it all.
Anne Midgette
The Poulenc was a class act. Amy Burton, the soprano, gave a commanding, convincing performance.
Heidi Waleson
The most satisfying opera at Glimmerglass this summer was the smallest – Poulenc's La Voix Humaine, performed by soprano Amy Burton. The intimacy of this piece makes it hard to pull off: A woman talks on the phone for 45 minutes with the [man] who has left her, and we hear the stages of her despair. Some singers turn the piece into a hysterical melodrama, torturing their voices, but with Sam Helfrich's direction, Ms. Burton played the scene with a subtle realism and beauty of sound that was infinitely more wrenching and vulnerable. As she tried desperately to hold herself together, every loss of control was startling and painful. Ms. Burton's idiomatically articulated French and vocal intensity were elegantly supported by Stewart Robertson, who drew vibrant colors from the Glimmerglass Orchestra.
Ithaca Journal
Soprano Amy Burton gave a stunning vocal and dramatic portrayal of the abandoned 'Elle.
Scott Cantrell
In the person of soprano Amy Burton, Elle is a glamorous blonde now pacing the floor, now reclining, now raiding the refrigerator, now dressing or undressing. Abetted by director Sam Helfrich, Ms. Burton's performance is a tour de force, her bright, pliant soprano homing in on Poulenc's quirky lines with laser accuracy.
(Syracuse) Post-Standard
Two-thirds of an hour of solo exposure constitutes a test many singer/actors would be hard-pressed to sustain. No such thought enters the mind, however, when soprano Amy Burton is on stage. Her voice is a lovely, nuanced instrument, and her characterization conveys more dignity than is sometimes awarded to the needy and neurotic caller, Elle.
B.A. Nilsson
The reason to see this is Burton's performance. She's Miss Lonelyhearts from Rear Window given voice; she's coming to grips with the fact that she's been dumped. She's been play-acting the silly girl for too long, and tries to discover, in spite of her pain, a truer voice. Burton's nuances were extraordinary, an able match to Poulenc's witty, searing score.
David Shengold
Glimmerglass scored big where it counted most. Amy Burton was a superb choice for Elle–– glamorous onstage, with excellent sung French and a gift for verbal coloration few American singers of her generation can match.
Matthew Erikson
It is a tour de force performance by the shimmering soprano Amy Burton, who isn't afraid to plumb all of the psychological recesses of her character.
Classics Today
The jewel of the afternoon, absolutely worth waiting for, was Poulenc's "La Voix Humaine," a one-woman show with a libretto by Jean Cocteau. Director Sam Helfrich did not require "Elle" ("She," as the character is known) to hang on to the phone – she put it down and roamed the stage like a caged beast, free of wires. Amy Burton's portrayal of the challenging character was stupendous – at times understated, sometimes in a state of panic, always desperately alone and sad. Her singing was stunning; her French diction flawless. Here was an alluring woman having a nervous breakdown.
Miller Theater: Air of Another Planet
For the occasion Schoenberg added a soprano and set a resonant text by Stefan George, beginning with the now fabled words, "I feel the air of another planet." The soprano later sings of "endless chasms that I cross with ease." And in the moment, you believe her. Amy Burton was the soprano, singing radiantly above a tempest of muted strings and moonbeams.
Cabrillo Festival: John Corigliano: Seven Poems of Bob Dylan
Superb Soprano, Riveting Conductor
If we're lucky, we'll get to hear it again with Amy Burton and festival Music Director Marin Alsop, who gave the cycle a splendid performance. Burton truly embodied the music and the poetry, from the wails of "Master of War" to the simplicity of "Forever Young," singing with fine tone, diction, and deep involvement, and coping well with the careful, and composer-approved, amplification necessitated by the poor acoustics of the Santa Cruz Civic Auditorium.
New York City Opera's Orlando
As Angelica, the queen of Cathay, whom Orlando adores, or thinks he does, the soprano Amy Burton sings with rich sound and eloquence.