About Amy Burton, Soprano
With a voice the New York Times has called, "luminous" and "lustrous," versatile soprano Amy Burton has sung with the Metropolitan Opera, New York City Opera, at the White House, and with major opera companies and orchestras throughout the US, Europe, UK, Japan and Israel, as well as on recital and cabaret stages from New York to Barcelona. A frequent interpreter of 20th and 21st-Century music, she has premiered pieces by John Musto, Paul Moravec, Lee Hoiby, John Harbison, Richard Festinger, and Richard Danielpour, to name a few. Also specializing in French vocal music of the 1920s and 30s, Ms. Burton has performed both mélodies and chansons populaires throughout the US and Europe, and recorded a critically acclaimed CD with conductor Yves Abel, Souvenir de Printemps.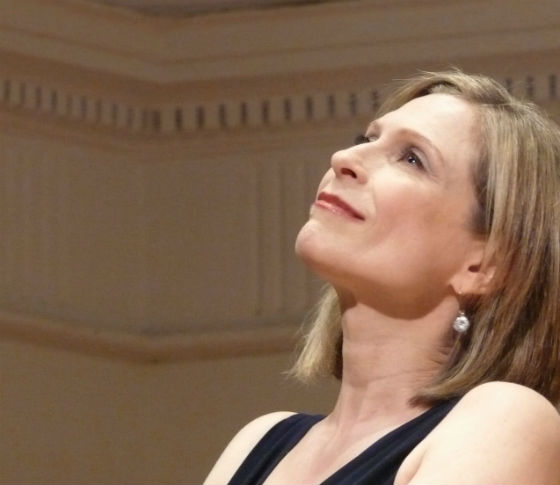 Recent projects include a concert of music by Leonard Bernstein in Southport, Connecticut, performances throughout the US of Late Night with Leonard Bernstein (with John Musto and Michael Boriskin, pianists, narrated by Jamie Bernstein, the composer's daughter), cabaret appearances at the Café Sabarsky with Musto, Double Date with William Bolcom and Joan Morris in New York and Ann Arbor, John Corigliano's Mister Tambourine Man with the Midland-Odessa Symphony and Debussy songs with Lyricfest in Philadelphia.
Amy Burton sang in the modern-day premiere of Cole Porter's rediscovered 1928 musical, The Ambassador Revue (La Revue des Ambassadeurs), in both Paris (2012) and New York (2014), the New York premiere of John Musto's Scottish Songs, and the world premiere of Sarah's Song for the AIDS Quilt Songbook 20th Anniversary concert, and Summer Stars for the Opera America Songbook and recording. Ms. Burton can be heard in other new works, including Winnie in the world premiere of Michael Dellaira's opera, The Secret Agent and the recording for SoundMirror.
Her frequent collaborations with composer-pianist John Musto include recitals, cabaret evenings and residencies. Their recent recording for Bridge Records, Got a Little Rhythm, a collection of songs and duets from the Great American Songbook (with baritone Patrick Mason), has garnered rave reviews. Amy Burton has previously recorded for Bridge, Naxos, Harbinger, Albany, Angel/EMI, and CRI.
A sought-after teacher, Ms. Burton joined the Vocal Arts faculty at the Juilliard School in the Fall of 2019. Also on the voice faculties of the Mannes College of Music (The New School), the CUNY Graduate Center (DMA program), and SongFest at Colburn Conservatory in Los Angeles, she has previously taught French Vocal Literature at Manhattan School of Music, and maintains an active private voice studio in New York City. She has given master classes and residencies throughout the United States and in
Paris.
Amy Burton's awards include major prizes from the Gerda Lissner, George London, and Sullivan Foundations. She was the Silver Medalist in the 1995 Marian Anderson International Vocal Competition, and New York City Opera, where she was a leading soprano for twelve seasons, honored her with the Christopher Keene Award, the Kolosvar Award, and the 2005 Diva Award. She is proud to be an active member of the Glimmerglass Opera Artist Advisory Board, New York Festival of Song's Artist Council, and Opera America, which honored her with their first-ever Artist Advocate Award.
Updated July 2021